This is the list of monster trucks sponsored by WCW in Monster Jam. These trucks are Strictly from Monster jam ONLY. So Dungeon of Doom and Hulkster arent on this list.
This was probably the most well-known at the time.It originally was Monsterpatrol and
Bulldozer
and then kept this body after WCW,which is where
Team Meents
and
Maximum Destruction
came from.
Nitro Machine
Edit
Nitro Machine only appeared in 2000 and was a chevy astro van body.It later became
Inferno
.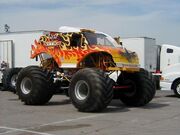 Madusa
is the only WCW truck still competing,even though it isnt WCW anymore.It was also the only truck with a female driver for a while.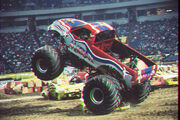 Sting was a truck with a Corvette body,VERY similar to
Vette King
.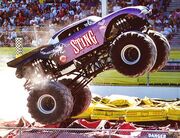 While not technically part of WCW, NWO was sort of the rival of the WCW trucks.It's Driver was secret, although it was discovered to be Rob Knell.The chassis became
Hotwheels
and
Bulldozer
.